One of Dave's catch phrases is, "Live like no one else, so later you can live like no one else." In his counseling he often tells people that means getting rid of their nice shiny (read: expensive) car and replacing it with a fully paid for clunker. We've been pretty lucky in that Tim has always shopped smart when it comes to cars. When he bought our current car, he was able to combine a good trade in with a great deal. This allowed us to pay off our car loan well ahead of its term so we own in free and clear now. It's a 2002 Nissan Maxima and I absolutely love it.
No, our car is not the clunker in our family. Our clunker is our couch! Yes, our couch. We actually have a living room set - reclining couch and arm chair - that we bought shortly after we got married. We did every did every thing wrong. We bought with our emotions (I fell in love with the chair and HAD to have it), we financed it (no interest for a year), and now it sits in the other room hardly used by any one other than the cat. The carpet in the family room is blue and I can't bring myself to put our green couch in here. I didn't pick out the color of the carpet, but we're not going to replace it right now. We have 2 young kids with lots of spills. It's not really conducive to new carpet or a nice couch.
When we still lived in Illinois, our neighbor tossed a couch. I saw it in the trash and asked if I could take it. We got it for free, but paid $150 to have it professionally cleaned. Still not a bad deal for a nice over sized couch, chair, and ottoman. After a couple years our toddler took it's toll on the couch - lots of coloring marks, stains, and tears. Last fall I bought slip covers on sale and was content with that for a while. But, after almost a year of sliding cushions and getting poked in the back with the PVC we tried using to keep the slip cover on... Tim and I both flipped.
We decided it was time to trade in our clunker couch for another couch. We didn't go out and buy a new one though. We just upgraded to a little better clunker. We found a LazyBoy sectional on Craig's list. We paid $240, but it was easily a $2500 couch when new. Both ends recline, it'll hide dirt really well, and actually matches our blue carpet. We're still working on getting the pet/smoke smell out, but we already love the upgrade. It's a lot more comfortable and actually makes our room look bigger.
It's actually been a very interesting process too. Tim said he battled a lot of the old feelings of "keeping up with the Jones's" when he went to go buy/pick it up. It's going to sound rude, but the people we bought it from were not exactly well off. Tim said I probably wouldn't have gone through with the purchase if I had seen the house. Kind of scary. For him, though, it brought up a little resentment... we probably we make quite a bit more than they do and they're getting a new couch while we get their junk. Even after two years of Dave beating the jealousy out of us, it still creeps back up every one in a while. Honestly, though, it's the best decision we could make. The kids will still put a lot of wear and tear on the couch over the next couple years so there is no point in buying some thing new. We just need to "drive" this clunker for a couple years to get us by.
Over sized Chair (pre-toddler and pre-slip cover):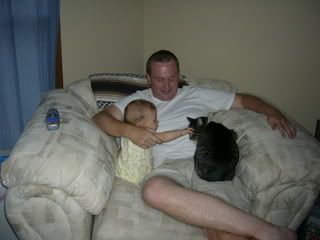 Slip-covered couch (original clunker):
"New" Couch (upgraded clunker):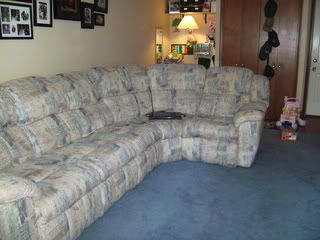 What do you think? Any ideas to banish old smells? Do you have a "clunker" story you want to share? I'd love to hear it!!!