All gazillion documents are signed. It's official. Our refinance is finished. Woohoo!!! With the refinanced wrapped up, Tim and I have been reflecting on our home ownership history.
House #1: In 2002 I bought a
REAL
fixer upper. It was a 1902 Queen-Anne in our little down town. I was single with no kids and some construction experience, so it was perfect for me at the time. The house wasn't even for sale; I had just tracked down the slum-lord and bought it from him. I was working for the City at the time, so I had a few connections. I knew the bank was concerned about red-lining issues, which meant they were
very
flexible in my financing. I basically did a construction loan with the primary contractor being me. After the about 6 months I rolled that in to a 5-1-Arm at 5.25%. I bought it with the intention of refinancing within those 5 years. Fate had another idea. I ended up meeting Tim about 3 months after I bought to house. Even though I was knee deep in construction, he fell in love with me any way and ended up moving in a year later. Over the next year and a half, we got married, finished up the majority of the house, and ended up finding out we were moving. Luckily the move was work related with a relocation package. I was a little pushy with the relocation company and insisted they list the house for $99,900 even though the average of the three realtors was only $90,000. We got
EXTREMELY
lucky in that some one who was living in the area and watched us fixing up the house had fallen in love with it like I had 2 years earlier. Just 2 days after the open house we had a full price offer. We gave 5% back at closing, but we had still covered all our costs (I basically bought it for $50K and put $35K in to it) with a little left over.
Our house was the bright blue "beacon" in the middle of the picture (It was supposed to be a deeper, darker blue but picking paint from a small square can be deceptive)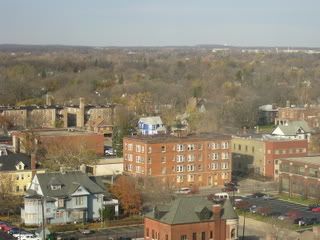 House #2: Our relocation was to a much tougher marker, so we didn't buy right away. We had a year to use our relocation package, so we rented for 6 months while we shopped around. Because we were young and stupid (and not on Dave's plan) we felt we
NEEDED
to take advantage of the program and buy a house within a year. We ended up finding a place about 45 minutes from Tim's office in a far north-west suburb. Because the market was so expensive, we ended up buying the house on an interest only loan. Yes, we were stupid. In our defense, we got the house at a good price. It had been on the market for more than 6 months and the people had already moved. They were carrying a bridge loan and willing to sell cheap and fast. We LOVED the house. It was perfect for us. Unfortunately, Tim's job wasn't. Within a year of buying the house, we had Troy and decided to move back here. Again, we got VERY lucky. We had a great agent and had bought the house right. Less than a month after putting it on the market, it was sold for $20k more than we paid for it. Once we paid the realtor fees, moving costs, and other non-sense we pretty much broke even. It was well worth it to get out of a bad job.
House #3: After selling the house so quickly we had to find some thing FAST back here. We had made several weekend trips to look, but with no luck. I had seen this house on the internet, but it was out of our price range at the time. At the last minute we found out this was reduced and on City water & sewer. We made an offer without me even seeing the place. Again, we got a great deal. The people had already moved out 8 months earlier and they needed to sell it. They had originally listed the price for just over $200,000, but we bought it $166,000. Since pretty much all our profit on the previous house had gone for expenses, we ended up doing an 80/20 mortgage. Our first was a 30 year fixed at 6.625%, our second was 8.5%.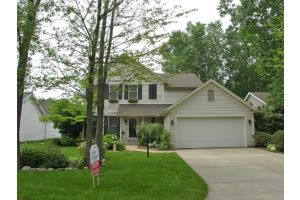 That was about 2.5 years ago. Since then we started on the Dave program. We have been paying aggressively on the second mortgage. We were on track to pay it off this year, but decided to refinance instead when the rates dropped. Before the holidays we were able to lock in a rate of 4.75% for a 30 year fixed. We were a little nervous about the appraisal because how bad the market is right now. Worst case scenario, we figured we'd have PMI for a little while but we would pay it off quickly and get it eliminated. We were thrilled when the appraisal came back at $181,000. That's a 9% increase in 2.5 years. Outstanding in this market. Even better is that it gave us more than 20% equity so we didn't have to do PMI. The best part for us will be the change in payment. Because of a screw up with taxes we had been paying over $1750 per month (for both payment). Now with the lower rate and only 1 mortgage (and the tax fiasco resolved) we'll be paying less than $1000 a month.
Yes! That is a savings of $750 per month!!!
We've come a long way from ARM and Interest Only loans. I never imagined we could have a 30 year fixed with a lower rate that my original ARM loan. You have to love that. Now we are down to just my school loan debt and then we'll be able to make that long awaited call to proclaim ourselves DEBT FREE!(house excluded)!